Wheelchair Accessible Porta Potty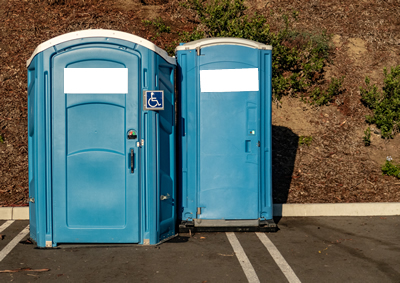 As human beings, we need to appreciate our diversity, which is why Americans with Disability Act was established. It lays down guidelines for the equal treatment of the physically disabled, including essential services for those on wheelchairs. This select group of individuals cannot easily use most of these facilities accessed by the physically able and therefore need a little customization. This is the reason why the wheelchair accessible porta potties were created.
These single-unit portable washrooms are loaded with features that make them easily accessible to wheelchairs users. You don't expect such people to navigate the steep corners and hanging modifications in your private restroom. You can, therefore, easily establish that these units are usually larger than most single-unit porta potties. Their construction considers both the wheelchair and the user, ensuring that the latter accesses and uses the facilities effortlessly.
Here are some of the features that you should expect:
Flat entrances
Cruising around on a wheelchair is usually a challenging fete, especially if raised surfaces are involved. Therefore, these units have a super flat entry thanks to their accommodating structure for easier access and exit. Most facilities incorporate the standard ramp, which is a good structure but proves challenging when going up unless one has an electric wheelchair or a handler. The lowly entrance is, therefore, a better alternative.
Top security features
The physically disabled are not endowed with certain reflexes, making them vulnerable to a range of accidents. These structures are therefore designed to ensure that users are ever safe. The first safety precaution is visible from the construction. A wheelchair accessible porta potty is made out of anti-slid materials that prevent users from skidding and falling out of their wheelchairs.
The floor and the entrance are made rough to increase traction, eliminating incidents of losing balance while in the wheelchair. This can also be seen in the walls used for balancing when alighting from the wheelchairs. They also have low toilet seats to give users an easy time. They don't, therefore, have to suffer getting off from the wheelchairs and positioning themselves. They don't have to use a handler as a result.
Lastly, they have durable handrails, thanks to their robust construction. These rails play an essential role in positioning and cruising around. Users also need extra support to alight their wheelchairs before using these units, which they get from the rails.
Size
These units are larger than the average porta potty to accommodate users on their wheelchairs. The construction is therefore spacious enough for easier passage, a feature that lacks in the standard units. The entrance is also wide enough for easier entry and exit. Users should not squeeze or force their way through openings on their wheelchairs. Therefore, everything is made just like it should.
Events
All events have these porta potties, which is one of the most prominent steps that organizers can take towards inclusivity. You don't have to prevent a given group from attending your events. You can, therefore, reach out to us in case you need this porta potty or any related service in Oakland.