Luxury Porta Potty
What is a luxury trailer porta potty?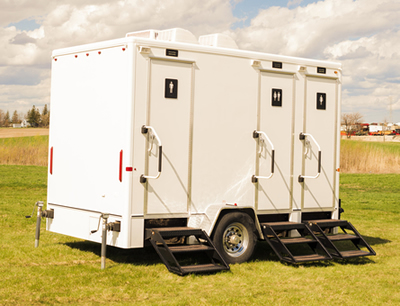 As the name suggests, these potties are the most luxurious porta potties you will ever come across. The luxury and class offered by these units remain unmatched! These units are designed with additional features you will not find in standard and deluxe units. What is special about them?
These units are designed to feel and look like home washrooms. When you think of some letdown events you have attended where the food, drinks, entertainment, and service were top-notch, the washrooms were a total disappointment. Your guests need to feel like they are in the comfort of a five-star hotel right within the porta potties in your events.
Luxury porta potties are made for high-end events such as outdoor weddings, corporate events, family get-togethers, and intimate events with friends and colleagues. These porta potties can match the class and luxury needed for such events. They feature multiple washrooms, urinals, and changing stations. The toilet seats are designed with high-quality materials and the floors wooden. These units are often finished with appealing wood vanishes and interior decor to recreate the feeling of home.
What to consider when choosing a luxury trailer porta potty
Features
Features are one main thing that sets these units apart from the standard and deluxe porta potties. These units are designed with additional features meant to add comfort to the rooms. Luxury porta potties come with multiple washrooms, wooden floors, and even non-slip mats at the washroom entrance. They are flushable with large capacity tanks. These porta potties also come with a sink or a handwashing station. Some of these units even have hot water in the taps. Some can also have showers, changing rooms, and baby stations.
Size
These units are very big since they are mounted in a trailer for easier movement. The interiors are very spacious, offering users maximum comfort while in use. They are designed with multiple washrooms and urinals to cater to several people at a go. Some also come with wheel-chair accessible and ADA-compliant washrooms for versatility. Each washroom has enough room for the user to maneuver comfortably. They are also fitted with shelves and coat hangers to place personal belongings when using them.
Number of people
Luxury porta potties are not the ideal units to serve large crowds at big events. They are designed for intimate gatherings that need comfort and class. These porta potties are very expensive to hire meaning, so it will be extremely costly to hire enough to cater to too many people. They can be hired for small events with few people or for large events to cater to a specific group of people.
About Oakland
Oakland is a city in the bay area of San Francisco. It is the third-largest city in the bay area. Our luxury trailer porta potty is also available in Oakland. So, if you are planning an event and seem stuck with the porta potties, we are a call away.