Jack London Square
Discovering Jack London Square
Jack London Square is without a shadow of a doubt Oakland's premier mixed-use waterfront area. In part, this is down to the fact that this prime piece of real estate has something for everyone. And by everyone, I mean quite literally, everyone. It doesn't matter if you're a foodie, a late-night reveler, a history buff, a music lover, an outdoor enthusiast, a shopaholic, or even a cinephile, you're sure to find something to your liking in this district.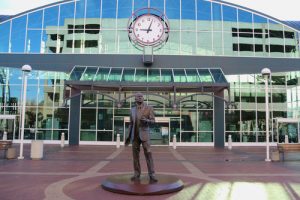 Variety, as you can see, is very much Jack London Square's calling card. Which is fitting because it very much tallies with the adventurous ethos of Jack London himself. You get the sense, indeed, that the acclaimed author of White Fang and The Call of the Wild would very much have enjoyed getting to know this most dynamic of districts.
A Little History
Jack London Square wears its colorful history on its sleeve. As well it might. After all, at one point in time, this area was the beating heart of Oakland's docks. These days you can visit FDR's very own yacht, the USS Potomac. Or, alternatively, check out a rare floating lightvessel, the Lightship Relief. On top of that, you can also pop over to Jack London's cabin.
A Food Lover's Paradise
In some respects, Jack London Square resembles one ginormous buffet. And a super well-stocked one at that. You see, dining options are numerous and varied. Adventurous eaters can choose between any number of ethnic eateries. Thai, French, Japanese, Middle Eastern; you name it, Jack London Square has got it.
Seafood, as you may expect, is very much a specialty. What you may not have been expecting, however, is to find a thriving barbeque scene. But that's Jack London Square for you. There's something different around every corner. If you're in a rush, for instance, there's always one of the many fast-food joints to fall back on. Got some time to kill? Then check out one of the area's many coffee shops. Fancy cooking for yourself? Then head down to the weekly farmers market to find the freshest local produce.
Lively Nightlife
Revelers can party into the small hours at any number of characterful watering holes. Jazz lovers flock to Yoshi's. While Kimball's Carnival's 6,000 square foot dance floor makes for the perfect place to boogie the night away. Plank, by contrast, is part generously stocked bar part amusement arcade.
At the other end of the spectrum, Heinold's First and Last Chance Saloon's earthquake tilted floor and beer-stained patina exudes authentic charm. But then, you'd expect nothing less from a 140-year old bar that was pieced together from a whaling ship's timber.
Not all the watering holes are quite as storied. Recently, indeed, the district has become renowned for its burgeoning array of breweries and urban wineries. A development which has added a new dimension to the area's nightlife.
Outdoor Activities
Naturally enough, Jack London Square's waterfront location dictates that watersports are front and center. For the truly outdoorsy, kayaking is a great way to explore the surrounding docklands at a leisurely pace. On the other hand, sailing excursions offer higher octane thrills for considerably less effort.
Landlubbers needn't despair. The waterfront is part of The Bay Trail and, consequently, is a great resource for runners, cyclists, skaters, and casual strollers alike.
Public Transit Options
It's super easy to get to the district using public transit. Take BART as far as 12th Street Station. And from there hop on the Free Broadway Shuttle, which will drop you off at Jack London Square. Alternatively, take BART to Lake Merritt Station. From there it's but a short walk to the waterfront.
Other options include San Francisco Bay Ferry, AC Transit, and AMTRAK.
---